Personal style is more than just what we put on day-to-day, it's a reflection of who and what we see ourselves as being. There's nothing more frustrating than feeling a disconnect between who we feel we are and how we actually look when we go out into the world!
With some consideration and a little experimentation we can all discover the foundation to our personal style, and best of all – start authentically living it. 
Here we compile everything you could ever want to know about finding and improving your personal style. In this resource, we'll cover commonly asked questions like as the below, whilst providing endless tips and inspiration.
What is personal style?
How do I find my personal style?
What ways to develop personal style?
5 Simple Tips for Defining Your Personal Style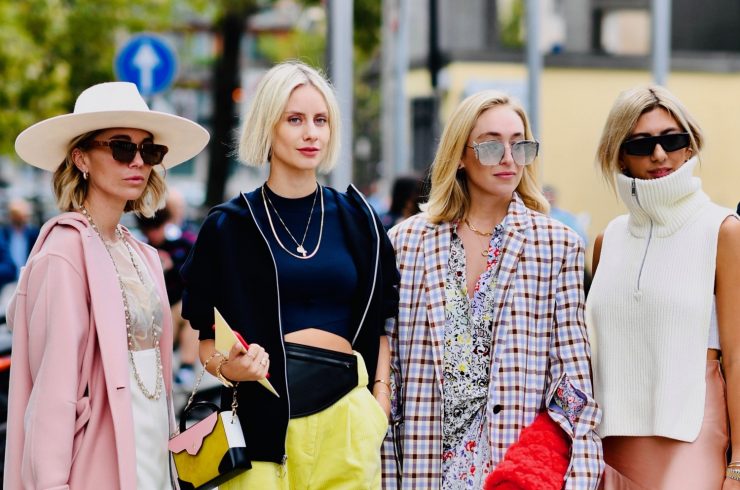 So many of us are on a mission to define our personal style because it helps us find confidence in our outfits and feel true to ourselves. It's a fact that those who dress in clothing they love and feel comfortable in are more body confident and enjoy their wardrobe!
These days, it's unnecessary to slavishly follow all of the latest fashion trends to be "fashionable". The problem with following fashion trends is that they never last for long – it isn't long before the next trend comes along and your clothing is outdated.
What's more important is finding a style that resonates with you, and which makes you feel like the best version of yourself each time you step out of the house.
Finding your personal style will generally mean less clothing waste too, as you won't be snapping up the latest and greatest with abandon anymore. So it's a mission we'll gladly accept for those reasons alone.
#1 – Dress for your body shape
Quite simply, dressing for your body shape will make you feel better and look better. And no matter what shape you are, be proud of it, and don't hide underneath layers of clothing.
You don't need to dramatically change your body shape lose to look good, you just need to dress for the body shape you have in clothing that makes you feel comfortable. Knowing what looks good on your body is half the battle when finding your personal style.
#2 – Invest in signature pieces
Once you've figured out the types of clothes that suit your body shape, it's time to find a few signature pieces. These items will ideally work well with other favourite items you have in your wardrobe. Once you've selected a few key items, you'll find shopping becomes easier as you can work around these clothing styles and mix and match with ease.
Given that one of the biggest mistakes people make when defining their personal style is buying items haphazardly and THEN realising those items don't really work well together, pause to make a more mindful purchase by really thinking about what you are buying and what it'll match with.
A good start for signature pieces include a quality jacket or blazer, classic jeans, a versatile dress and ankle boots. Sometimes you may have the makings of a signature piece already built into your style. 
#3 – Get rid of old clothing
When finding your personal style, it's a good idea to get rid of what you don't like anymore. Decluttering is important in all facets of life, and our wardrobe is definitely one of them.
Getting rid of clothes that don't serve you any more will not only free up space in your wardrobe, it may even make you a bit of cash, too. The other benefit of ridding yourself of old clothing is that it forces you to acknowledge what styles work well on you and what you want to stay away from. You can also choose to donate your old clothes to charity.
#4 – Find your personal style and be brave!
Sometimes, you need to get out of your comfort zone before you can define your personal style. So, if you've never tried a certain style of clothing before, or have never been adventurous with colour, how do you know you won't like it?!
If you love a certain look that you see on others, just try it on yourself – there's nothing to lose. Finding your own personal style is sometimes about being brave and perhaps breaking away from your entrenched ideas about clothing.
#5 – Wear colours that suit you
In addition to dressing for your body shape, it's also wise to go for colours that naturally flatter you. Some colours work well with your hair colour and skin tone, whereas others can make you look drowned out or flat.
When you start to build your new wardrobe, pay attention to the colours you're choosing and make sure that they're going to suit you before purchasing. If you are struggling to know what looks good, check out this handy article for dressing to your skin tone and hair colour.
How to find your personal style at any age

Finding your personal style: If you're a little too used to dressing down and you constantly ignore your fashion sense to the extent that switching up your style is the farthest thing from your mind, you may be in a dreaded style rut.
Whether you're looking to update your wardrobe with a few new pieces or totally transform your look, it is never too late to embark on a journey of personal style. Whether you're 30, 50 or 70, age shouldn't have to limit your style choices or your desire to look absolutely fabulous.
Here we look at 5 easy steps towards finding your personal style – read on to learn more
#1 – Identify Your Style Idols and Goals 
One of the best ways to get inspired and find your personal style is to identify your style icons and goals. If you've ever looked at a magazine, watched a movie or scrolled a stylish person's instagram, and thought to yourself, "I wish I could wear something like that!" well, guess what – you can.
Identifying style icons that you can draw some creative inspiration from is key, whether they be celebrities, fashion models or even a friend or family member. Try and pin-point what it is about their style that you love so much and see which elements would work well on you. 
#2 – Let Accessories Lead The Way
Sometimes, even the smallest accessories can make the biggest impact on how you look and feel. If you're in a style rut, one of the best ways to update your outfits is with the help of a brand new accessory or bag.
You don't have to break the bank either – these days there are millions of brands that sell beautiful accessories at every price point. There are also many designer consignment stores online who sell authenticated pre-loved designer items for a fraction of the original RRP so you can achieve that luxe look for a lot less.
#3 – Find Your Personal Style = Living Life Your Way
Life is a series of journeys, and one journey that often takes us years if not decades to discover is our individual style. What you liked when you were a teenager is unlikely to be what you like wearing later in life, which is why giving yourself the leeway to evolve and adapt your style as the years go on is key.
One of the great things about getting older is that we learn to love ourselves more and not care so much about what others think! Allowing yourself to age with grace and confidence, while finding your personal style that's truly YOU is the best way to embrace life.
Do you want to slip on those designer heels that have been sitting at the black of your closet on a Monday night? Go for it! After all, life is for living and expressing ourselves through our personal style is one of the best ways to do that.
#4 – The Magic of Makeup
Makeup isn't just for when you're in your 20s or 30s, or special occasions, it's a tool that can help you look amazing and feel confident in your own skin, regardless of your age.
Many women avoid makeup fearing they are "too old" for cosmetics and makeup, or their lifestyle doesn't warrant it. But we're here to put an end to those assumptions. Makeup is a great way to pull an outfit or look together, and make you feel confident, no matter your age or the occasion. It's also fun to experiment with and fun to shop for. (And who can go past those addictive YouTube tutorials!)
#5 – Claim Your New Signature Look
If you've come to the point where you've decided what your brand new signature look is going to be, it's time to embrace it and live it. The more often you channel your inner creativity through your outfits, makeup and accessories, the faster you will start to feel renewed and energised – you'll have moved out of that style rut!
Remembering that the key to success is always confidence, strut your stuff with conviction. In summary, if you're looking to boost your personal style, don't let things such as age or what you feel is "appropriate" stand in your way. 
5 Ways To Improve Your Everyday Personal Style
Many of us are guilty of spending a lot on fashionable clothes to get the 'look' we see on instagram or in magazines, however it's easy for this to backfire. Hands up if you've ever ended up feeling like you've tried too hard and not felt your best?
Everybody wants to look great, but many people struggle to find their own personal style and feel confident in it. The thing is, style isn't about expensive clothes – or the latest ones.
It's more about how you put clothing pieces together and how good you feel wearing them. Choosing pieces you like and feel comfortable in will emanate from your persona so that you radiate confidence from within. Your style can speak volumes about your personality.
If you'd like to uplift your everyday personal style, here are five fashion tips to follow!
#1 – Opt for a classic jewellery piece
The one thing that can truly make or break any outfit is the right jewellery. A stunning piece of jewellery can instantly transform your everyday style, whether you are wearing a casual tee with denim jeans, a sundress, or a suit.
For example, pearl jewelry will never go out of style. It's an instantly stylish addition to any casual or formal look and it suits women of all ages and skin tones. Pearl jewellery is available in all shapes and styles, all of which have the power to add sophistication to your look, no matter the occasion.
#2 – Be disciplined when choosing your outfit
Finding clothes that fit properly and flatter your body type is an important aspect of elevating your style. Why? Fitted clothes make you look well put-together and more elegant.
So, when it comes to choosing your outfit, avoid the temptation to wear items that two sizes too small or too big – only go for clothes that fit you. Also make sure you consider how the top and bottom half of your outfit work together so the pieces complement each other and balance out your proportions.
Additionally, try to choose the right colors for your look. Go for colours that mix and match aesthetically to avoid creating an outfit that is more clown than classy.

#3 – Embrace statement pieces
Taking risks every now and again with your clothing will help you elevate your fashion game and potentially find new ways of dressing that make you feel confident and powerful.
This may mean experimenting with new colours, patterns, unique materials, and unusual accessories to express your creativity.  Bold statement pieces such as a brightly coloured blazer, a patterned shirt, customised jeans, or unique accessories can instantly uplift your style from drab to fab.
Keep in mind though, that trends for statement pieces change quickly so you may need to update your choices a lot more to stay current, versus opting for classic and timeless garments.
#4 – Invest in your beauty routine
Besides improving your everyday fashion style, investing in your beauty routine is well worth the effort. Our hairstyle, skincare, and makeup choices are just as important – if not more important, as the clothes we choose.
No item of clothing will beat radiant, healthy looking skin, healthy hair and the confidence that comes with it. This combination will go a long way in elevating your physical appearance and making you feel like a million dollars.
So, whether you're going to work, meeting your friends for brunch, or grabbing a drink over the weekend, great skin and the right make-up will immediately make you feel polished and stylish.
#5 – Consider Your Personality
It is important to accept and understand your own personality if you really want to create a personal style that's all your own. Never force yourself to conform to fashion trends if you don't like them or they just aren't 'you'. Instead, your clothes should inspire genuine confidence in yourself because they are a true representation of your personality.
Final thoughts
Truly stylish women know that style is not about expensive clothes. It's more about how you style the right pieces and how you put it all together. Last but not least, personal style is also a reflection of how well you look after yourself. It's true that improving your health and appearance will help you be more confident before you even set foot out the house in the morning.
Top Tips For A Minimalist Personal Style
Minimalism isn't just a fad movement these days – people everywhere (millennials in particular) are challenging the typical consumption mindset and applying it to all facets of their lives, including their personal style.
With a minimal approach to dressing, we are no longer wanting more, we are simplifying our lives and wardrobes and holding onto only what we actually love and need.
Of course, to adapt to this lifestyle, some changes are necessary, and some will be easier than others! When it comes to personal style, how do you apply a minimalist mindset to your wardrobe?
Here are our top tips for simplifying your personal style whilst looking elegant and classy at the same time.
#1 – Go with simpler outfits
There are many advantages of opting for more simple outfits. For starters, you can afford to invest in better quality pieces that utilise higher quality fabrics and have better design.
Simpler outfits also tend to be a lot more timeless. These days, trends come and go faster than anyone can keep up with them. At best, you'll be lucky to get a couple of months wear out of the latest "it" bag, shoe or jean. And when the trend is over? You'll stop wearing those looks and throw them into the back of the wardrobe. Not only is it exhausting to keep up, it's wasteful, expensive and terrible for the environment.
Having a handful of classic outfits you can turn to minimises the hassle of having to keep up with trends, and it allows you to look more elegant and elevated too. 
#2 – Purge your shoe closet
In all honesty, we all probably have way too many shoes in our wardrobe. Who really needs 30 different pairs of high heels and countless sneakers? Ideally, to live properly in a minimalist way of life, we should limit our shoes to 1 or 2 pairs per type, or per occasion.
For example, a versatile and classic pair of heels for evening, a good quality pair of sneakers for exercise, and a well-made pair of sandals for weekends. You get the idea. This will help you declutter your space and you'll get the most out of each shoe.
#3 – Go without a handbag
Take a look in your handbag(s) right now. From old receipts to nearly empty lipsticks, there's probably a lot in there that you don't need. Going without a handbag might seem impossible, but how much do you really need when you go out? While some of those handbag contents might be needed, you'll probably be okay without that empty water bottle and and half of your makeup collection.
Going without a handbag is actually very freeing. You don't have a bulky (and possibly weighty) item to carry with you, and you also don't have to worry about losing anything. In essence, when we leave the house, all we really need are keys, money, and a phone.
You can always swap your handbag to a versatile clutch that holds the essentials. Opt for a colour that will work with the majority of your minimal wardrobe to ensure you get the most mileage out of it. 
#4 – Get a low-maintenance hairstyle
Another way to bring minimalism into your personal style is by choosing a lower maintenance hairstyle. Truth be told, low-maintenance hair can look very chic, and there are obvious benefits to not needing a weekly visit to the salon. For most people, shorter hair tends to be more manageable and it's easier to keep looking healthy.
But if you're set on longer hair, then you can still apply a minimalistic approach. First up, the key is to run with your natural hair colour. And second, you'll want to keep it looking clean and polished with a quarterly trim.
#5 – Why bother minimising your personal style?
Adopting a minimal mindset to your style has several benefits. On the one hand, you won't be trapped in the never ending trend-vortex, and secondly you will be able to handpick better quality items to represent your style.
Not only that, but living with a more minimalist mindset will reduce any wasteful consumption practices, and lead to a generally more mindful way of life. Perhaps most important, is that these steps will remind you to focus on pieces that provide joy and matter most to you.
The Cool Girls' Guide To Discovering Your Personal Style
PERSONAL STYLE: Life is stressful enough without the daily battle of trying to find something to wear. When you don't understand your personal style, you can end up in the dreaded situation of the awful outfit – one that not only looks bad, it isn't YOU.
We've all been there. You spend your day dipping in and out of bathrooms to assess your appearance, checking every reflection in an attempt to reassure yourself the gamble you took paid off. This ruins your mood, and looking back, your only memory of the day will be the terrible outfit choice.
So, how do you fix this? How do you become one of those cool girls who always looks great, but more importantly, always looks confident?
The answer is by cultivating a genuine personal style – a 'personal style formula' if you will. By following it, you'll know you will always look good, no matter the day or occasion.
Keep reading for the best techniques every cool girl follows to develop their personal style
#1 – Seek Inspiration From Others
Firstly, having a personal style means having a visual representation of yourself and what you stand for.  This could anything from ultra classic style to rock chick – there's no limit to what it means to be 'you'.
However, one of the best ways to seek out style inspiration for yourself is to observe others. If you're drawn to the style of self-confident, classy women, find likeminded examples on instagram, in your workplace, in restaurants, and on the street to take note of. 
Soon you'll begin to see overlap in what you like. Perhaps there are certain pieces that give off a specific attitude that resonates with you, or it's the aesthetics of some types of garments that speak to you the most.
Cool girls seek inspiration everywhere – and fashion is all about telling a story. When you're looking to tell yours, pay attention to the surrounding characters. People in our everyday lives are our best source of creativity, they are a walking and talking street style model ready t inspire your next outfit moment.
#2 – Create A Moodboard
Once you've noticed a pattern in what kind of style you're drawn to, it's time to create a moodboard. A moodboard brings together all your loose ideas and creates cohesive energy.
This mosaic of style should show who you are through the varying images, and be a good source to go back to whenever you feel a little in flux. Moodboards can also be constantly updated to represent your growth and change.
A cool girl doesn't stagnate, she updates with the times. Having a personal style doesn't mean you stay in the same place forever, like some sort of beautiful butterfly memorialised in amber.
Instead, whether you opt for effortless, understated chic, or over-the-top glamour, what that looks like changes over time but it's the essence that stays the same. So, remember to refer back to your moodboard, and don't be afraid to update it.
#3 – Keep The Style But Update The Cut
To solidify the point of updating without compromising the essence, when it comes to actual clothing, it is ok to switch up your wardrobe.
Having a defined personal style often means having specific silhouettes you refer back to constantly – they're comfortable, they're cool, but most importantly, they represent you.
As a result, as times change, we may feel a little nervous to divert from our usual path. But, the cool girl knows that the rule of thumb is it's ok to update the cut.
Perhaps, you're a devoted denim girl. Your essence is effortless and timeless, never looking like you've pondered your outfit too long. So, whilst a skinny jean may have encapsulated this simple style several years ago, today it would simply look wrong and perhaps even work against the effortless air you're trying to create today.
A simple fix is to swap the outdated cut for something a more current, like a straight leg. There's no need to completely switch up your look altogether and suddenly become the embodiment of Courtney Love, but making little changes will bring your look along with the times.
#4 – Create A Capsule Wardrobe 
By now you will have developed a solid idea of the personal style you have, complete with a backlog of influences and an understanding of your favourite silhouettes.
Next, it's time to create the backbone of your wardrobe, the defence against bad outfit days, the capsule wardrobe. If you Google capsule wardrobe, you'll be met with a variety of videos and articles showcasing white T-shirts, and blue denim.
The words "basics" and "neutrals" are often key players, with the recurring idea that your wardrobe should have a skeleton of simple pieces to refer back to, in order to structure your style around.
The key message is this: yes, a wardrobe should have a base of pieces in which to work the rest of your outfit around, but these pieces are entirely unique to the individual.
Somebody with a maximalist, colourful style is going to have completely different staple pieces to that of an understated minimalist, so it's important to tailor these capsule items to your taste.
Foundation pieces should be the backbone of your wardrobe and the answer to those "nothing to wear days" so consider what makes you feel good, especially on days that you feel bad.
This includes identifying the colours and patterns that bring out confidence in you, and prop you up on days when you aren't feeling it. A cool girl never hides – she puts on pieces that boost her mood and her confidence and she gets back out there.
#5 – Understand The Importance Of Accessories 
A lot of the work that goes into developing your ideal personal style relies on understanding what you feel comfortable in, and what influences you, in your own unique way.
The final step is to understand the importance of accessories, and the major role they play in personal style. The way you accessorise completely changes your look and overall vibe.
A heavy presence of sparkling crystal jewellery will transform a simple silhouette into something far more extra. And the same works in reverse. Accessorising a dressy clothing item with much simpler, more casual pieces, obviously dresses it down and makes it more versatile for different settings.
Final thoughts
Our personal style is important, it's not only how you show the world who you are, it has an enormous impact on how you feel. So, making the effort to develop yours is worth the investment.
Taking a page out of the cool girl's book, don't be afraid to take inspiration from others, and pay close attention to what elevates your mood. You'll find that these small tweaks will add to your confidence, both inwardly and outwardly.
How To Enhance Your Personal Style No Matter The Year Or Season
Being true to your personal style isn't only about your external physical appearance, it's also how you perceive yourself. Therefore, what we wear can play a huge role in how we feel about ourselves.
While fashion is mostly about trends and style, it's still important that you wear outfits that you feel comfortable in. While plenty of trends come and go, you needn't adopt any looks if they don't make you feel like the best version of yourself. When considering your best personal style, there are a few key things to keep in mind.
These tips will help you look and feel great in your personal style no matter the season or your budget.
#1 – Learn how to wear casual clothes stylishly
If there's one thing the pandemic taught us, it's that comfort is important when it comes to fashion. That doesn't mean resorting to only wearing tracksuits and active wear 24/7.
What it means is that it's a good idea to have a few casual – yet stylish outfits you can fall back on for day to day wear. To start with, buy a few classic and simple t-shirts in good fabrics and neutral tones. These can be paired with your most comfortable pair of jeans.
Just add a shoe of choice, whether that's a lifestyle sneaker, sandal or boot and you're good to go. You may also want to have a classic leather or denim jacket on hand, and perhaps a luxe-style parka for cooler months.
#2 – For best personal style, wear clothes that fit you perfectly
Oversized clothes are trending, and we can kind of see why. Let's face it, wearing super baggy clothes not only looks on-trend, it also feels very comfortable. 
That being said, wearing baggy clothes 24/7 isn't generally considered chic – nor is it appropriate for all settings. It also doesn't do much to show off your physique (if you're into that!)
Most people who have a classy personal style swear by wearing clothes that are just the right fit for their body. A trip to a trusted tailor is often the best way to ensure clothes bought off the rack end up fitting you like a glove. 
#3 – Always have a balance in your outfit
It's fun to play around with your clothes and see what you can come up with. To your surprise, you may end up with an outstanding outfit that looks straight off the runway – you just need to be creative and think outside the box.
But, for best results, try to bring an overall sense of balance to your outfits. For example, be mindful while using contrasting and complementary colors and balance of different proportions. Here, it's best to team a more oversized piece of clothing with a more form-fitting one.
#4 – Organize your wardrobe and shop wisely
Having a cluttered wardrobe will make it difficult for you to choose what to wear and you'll tend to gravitate back to the same old pieces that are easy to grab. This goes against your efforts to determine your personal style.
Therefore, it's really important to get rid of any clothes and accessories that you will never wear again. Not only does getting rid of unworn and old clothes free up space, it helps you to understand where you may be wasting money on your purchases.
The Basics of Classic Personal Style 
We all dream of owning a wardrobe stocked with items that speak directly to our personal style: fantastic outfits that translate from the office to an evening out without missing a beat.
What we're really looking for are a slew of versatile and flattering clothing pieces that mix and match with ease. These are the foundations of our personal style. 
For classic dressers, these will be timeless pieces that are hard to grow tired of – those that don't float in and out of fashion with the changing of the wind.
Fortunately, having a highly functioning wardrobe is attainable and it doesn't take Victoria Beckham's budget to achieve it. With the right foundation pieces and a little planning, you will save money, save time, save space in your closet, and most importantly – you'll always look amazing.
First up, a tip: Consider your lifestyle! If you're looking to build your own capsule wardrobe that speaks to your personal style, then it needs to do two things: it needs to appeal to us aesthetically, and it needs to be practical for who we are in real life.
For instance, do you work from home or do you have a million frequent flyer miles? Are you more likely to be found socialising into the small hours, or are you running the Bondi to Bronte trail at dawn?
Be sure to consider the climate, as well as your best colours (note: these are not necessarily your favourite colours!) You may consider enlisting a colour professional to help you with this if you are not sure. Work around base colours in your wardrobe and add interchangeable accessories for pops of colour.
Below we share some fool-proof items that will pave the way for a capsule wardrobe of classic personal style. Use it as a guide and adapt the items to suit your own style!

Classic Personal Style Item #1 – The "Right" T-Shirt
Include a few quality t-shirts in your wardrobe and you'll wear them in an infinite amount of ways. Classic t-shirts (V-necks and crew necks) go well under a blazer or with jeans, pencil skirts or shorts. They can be dressed up with statement accessories for an evening out, and they adapt perfectly for casual Fridays in the office as well.
Shopping Suggestion:
Classic Personal Style Item #2 – A flattering pair of jeans
A t-shirt or blouse + great jeans + a well fitted jacket = a classic combo that will never go out of date. So, having a flattering pair of jeans to team with t-shirts is imperative.
Choose a classic-wash pair with a lean fit and a straight leg. An ever-so-slightly flared jean flatters most body types, but for most people, steer clear of anything too retro if you want to get the most wear out of them.

Classic Personal Style Item #3 – A Timeless Leather Jacket
A lot of great outfits include a quality leather jacket. The leather jacket is a timeless piece that will get a lot of mileage. (Click here to read our tips on leather jackets.) Adding a leather jacket to a t-shirt and jeans and you have instant rock chic style, OR your jacket can be thrown over a feminine dress to add some edge.
Always try and invest in a quality piece that will hold up for many seasons, so go for a jacket with a classic cut and tailored lines and avoid those with heavy studs, chains, and heavy embellishments that will look passé after the season ends.
Shopping Suggestion:
Classic Personal Style Item #3 – A Classic Blazer
The classic blazer in black, grey or navy is an essential part of many women's personal style arsenal. It can be your go-to piece to throw over a cocktail dress for nights out, or over a blouse and slacks for a business meeting. 
A black or navy classically-cut blazer needn't be boring, and pulls a look together no matter what else you are wearing. A celebrity favourite, and spotted on just about every stylish female anywhere, the classic blazer also adds instant glam to an everyday tee and jeans ensemble.
If you have more of a minimal and classic personal style, then hen splurge on one made from quality material and with a lean tailored fit. Say "NO" to studs, appliques, sequins and any other detail that detracts from the classic look.
Shopping Suggestion:

Classic Personal Style Item #4 – A Neutral Trench Coat
As far as classic personal style goes, a trench coat should be considered an investment piece. You'll wear it in the spring and autumn as a transitional piece, over everything from jeans to dresses. Trench coats are a perfect inclusion for your capsule wardrobe as the coat is endlessly versatile.
Purchase a trench with a figure flattering silhouette and an added belt to cinch at the waist. Black, tan or navy are the best bets when it comes to purchasing a classic trench for your capsule wardrobe. They'll work seamlessly with most other garments.
Shopping Suggestion:

Classic Personal Style Item #5 – Black Ankle Boots
Ankle boots are a no-brainer when it comes to creating a versatile capsule wardrobe – they work with everything are a daytime staple. You can team them with jeans, suits, and dresses, shorts and skirts.
Always invest in leather, or a quality vegan alternative, with either brown or black being the most versatile. Pair black ankle boots with jeans, black leather jackets, or sleek dresses. Brown boots go well with feminine dresses (an edgy/boho look), blazers (everyday sophistication), and preppy outfits.
Shopping Suggestion:

Classic Personal Style Item #6 – The Little Black Shoe (LBS)
Black leather pumps are a year round fashion favourite and no fashionista's capsule wardrobe should be without them! A classic black pump will be your go-to shoe for day and night wear, elevating an average outfit into a masterpiece in seconds.
Whether you get them in plain black leather, suede or patent leather (slightly less versatile but still a winner) black pumps add polish and sophistication to almost any outfit. A beautiful black pump will also do wonders for your posture and poise, it's like an instant jolt of lady-like!
Shopping Suggestion:

Classic Personal Style Item #7 – A Little Black Dress (LBD)
You know you should own a little black dress, but make sure to purchase one that makes you feel like a million dollars. Whilst a LBD is the perfect canvas for showing off some great accessories, it's better to start off with a dress that has some detail built-in.
For instance, an eye-popping belt, a flattering neckline, and or some other interesting design feature are some qualities you can look for in your LBD. This dress needs to fit you right, so it's vital to purchase a replacement if your dress size changes.
Shopping Suggestion:
Personal Style: How To Borrow From The Boys

Once considered a faux pas, the look has been quickly gaining traction over the last decade. Everyone from fashion influencers to fashion's elite and everybody in between has embraced this 'trend' and turned it into a way of life. 
Once upon a time, the very thought of women shopping in the Men's department and "borrowing from the boys" would have raised more than a few eyebrows. But things have thankfully changed.
If the thought of masculine styling appeals to you, read on – we have all the tips you need to make this personal style direction work for you.
Tip # 1 – The Boyfriend Blazer is THE Blazer
From cool Winter days to crisp Spring nights, the boyfriend blazer is your ticket to instant cool while still keeping warm.
The trick to making this look work is to add a few feminine details. Pair with a flattering pencil skirt, straight legged pants or jeans and add a scoop-neck tee, some heels or a statement necklace. The contrast between the masculinity of the blazer and the femininity of the styling is what elevates the outfit from being just another oversized blazer.
Tip # 2  – Swap Your LBD for a LBS (Little Black Suit)
What do Amy Poehler, Angelina Jolie, Anna Kendrick and Olivia Wilde have in common? Aside from their envious Hollywood careers, all of these ladies have discovered that a tailored suit is a sure-fire way to end up on the best dressed list.
The trick in making the suit work for you is to ensure it fits like a glove. Invest in a tailor – it's what the men do! Keep the rest of your styling to a minimum – pair your suit with a crisp button up shirt or if you're feeling brave, button that jacket and go shirt-free for the ultimate in sexy styling.
Tip # 3 – Men's Accessories Aren't Just for The Boys
Why should we give men all the fun when it comes to their accessories? Some of them are so delectable it seems criminal that we can't enjoy them too! Add a chunky, oversized men's watch and mix it in with some fine bracelets. Add a spritz of men's cologne for a scent that's less sweet and more sensual. Kate Moss has been wearing men's skinny ties for years and Sienna Miller regularly adds a top hat to her outfit.
Classic Personal Style: 7 Things You Should Never Throw Out
Regardless of the trends walking their way down the runway, or the eye-catching looks favoured by celebrities, there are several "evergreen" items in our wardrobes which will never fail to make us look and feel good.
As the seasons change, so do our wardrobes, but when trying to get rid of the clutter and find new inspiration we can be tempted to throw away more than we need to.
While you may be tempted to Marie Kondo these items away, here are the 7 wardrobe staples you should ALWAYS hold on to.

Item #1 – Your favourite boots
Boots are a wardrobe staple that we should never be without. Whether they are suede or leather, you can pair them with just about anything to dress up a winter outfit. Both stylish and comfortable, they are a piece worth investing in for the long haul, so once you've got them, you should never let them go.
We Love:
RAG & BONE Willow studded leather ankle boots 
Item #2 – Cashmere jumpers
Cashmere is definitely the knit of choice – it's incredibly warm, it's the most comfortable, but sadly – it's also the most expensive! Get your cashmere dry-cleaned to look after it so you can keep it on rotation for as long as possible.
When it starts looking a little worn – simply cut the pulls away from the fabric. There is never a reason to throw away cashmere if taken care of correctly. This is one investment that'll pay you back in spades.

We Love:
BODEN Cashmere Crew Neck Jumper
Item #3 – Classic Jeans
Denim takes months to mould to your body until it's exactly right, but once it does – there is nothing better. A great pair of jeans hugs your figure in all the right places, and feels just right. So why would you ever throw them out?!
Even if your most flattering denim seems to be out of style right now, we can guarantee it will be back in fashion soon enough. And what could be better than already owning those perfectly worn jeans when it does? We thought so.
We Love:
LEVI'S Mile High Super Skinny Jeans
Item #4 – Trench coat
The trench coat is one of the most versatile pieces in our wardrobes, and that probably accounts for why we wear it way too much! But don't make the mistake of thinking this is a problem and throwing it out in a moment of inspiration – keep it. There are so many different ways to wear this piece that we know you will regret giving it away.
We Love:
Item #5 – Your slip dress
Like Kate Moss, you can wear a slip dress anywhere. This piece is something that moves from night to day with the need to only some heels so once you've found the perfect one you should hold onto it always.
We Love:
DION LEE Contour Tie Slip Dress at The Iconic
Item #6 – Black leather handbag
Black-leather-anything is one of the best-known wardrobe staples and something we all love to invest in. Even if you start feeling that your favourite black leather bag is a little last season, hold onto it! Rotate this bag with another, as we guarantee you will come back to it with renewed enthusiasm in the not too distant future…
We Love (splurge!):
GUCCI GG Marmont textured-leather tote
Item #7 – Leather Jacket
An all-time favourite wardrobe item is the leather jacket. It can be edgy and sexy – OR, when paired with skinny black jeans, unbelievably sleek. An item that can be worn with this much adaptability should never be thrown out.
We Love:
ENA PELLY Minimalist Biker Jacket
Top Tricks To Improve Your Personal Style In Winter
As the days grow shorter and the temperatures plummet for yet another trip around the sun, it's time to pull those winter wardrobe items out of storage. Though the weather may be dull, your wardrobe doesn't have to be.
How do you stay warm this season without completely compromising your style? And, how do you achieve this without spending this month's rent on a trendy item that will be outdated in a month or two? Here we're talking tips and tricks to transform your wardrobe in a few subtle ways, that'll have you looking stylish any day of the week, (or season of the year).
Keep reading to for the best tips to looking effortlessly stylish in winter
#1 – Expand Your Brand Horizon
It's fantastic to have brands that you know and love, but when you find yourself in a style rut, it's time to look beyond your comfort zone. There are plenty of incredible lesser-known brands that will not only provide you with the unique pieces you need, they'll help you support the right initiatives too.
New brands are popping up all around the world, and many of them are committed to doing things the right way, such as committing to sustainable practices.
So, rather than opting for disposable fast fashion as your go-to each season, look into up and coming brands when you're updating your winter wardrobe. Many of these brands produce their products locally and source higher-quality fabrics, meaning you won't need to keep replacing your wardrobe anywhere near as often.
#2 – Find Your Look
The tip of finding your look, or "uniform", has been a fashion mainstay for stylish insiders, but this doesn't mean simply finding a neutral or cookie-cutter style skeleton with which to layer upon.
Instead, use winter to develop an understanding of the silhouettes you feel best in. For example, when we get dressed in the morning and are unhappy with the outfit we've put together, it's not usually down to individual pieces, but rather how they sit on us and make us feel.
Perhaps you feel better in a higher waisted, voluminous bottom, with a tighter more cropped shape up top? Or maybe you're all about exaggerated sleeves or oversized pieces?
Regardless of what it is, once you understand what silhouettes make you feel best, shopping for new items and getting dressed each day becomes considerably easier.
How stylish you appear has a lot to do with your confidence, so work on ways to achieve this feeling over the winter months. Once you have this tip down pat, it'll be simple to pick the right items and feel great every day.
#2 – Become An Outfit Repeater
The idea of being an outfit repeater has become a fear in many people's sartorial lives. To be seen as cool or stylish, many feel they have to be seen in new outfits every time, especially with the influence and pressure of social media.
However, the most stylish people know how to wear their clothes really well – after all, if it can be worn three ways, it stays (in your closet that is). Rather than opting for new and trendy items, find pieces that you truly love that will move with you each season and transcend the trend cycle.
A great example of this is the leather jacket, there are several different cuts, be it the blazer, the moto or the bomber to name a few. Once you find the cut that flatters you, you can wear it to endless different occasions. Leather jackets can be worn casually or dressed up, and when looked after properly, it'll last you years – ageing like a fine wine.
But, the pieces in your signature style don't have to be the most basic version of items. Though colourful or patterned pieces are likely to be more trendy, if they speak to you then wear them, and continue to do so long after the trend fades. It's all about wearing what you love, staying true to your personal style, and finding new and fun ways to style your favourite items. 
#3 – Rent The Wardrobe 
If you really need to dress up in winter but you want to be more mindful with your purchasing or can't justify splashing the cash on a one-time wonder, then renting is the way to go.
Even a few years ago, renting outfits wasn't what it is today, offering a much smaller pool than what you could purchase. Today, you can rent anything from purses to princess-esque gowns, and everything in between.
Renting not only gives you the opportunity to create a high-low mix with luxe items mixed with your daily rotation,  it gives you the chance to test drive an investment piece to see if it's really worth the indulgent price tag. So shake up your winter wardrobe with luxe staples like designer coats and accessories, and feel the difference. 
#4 – Elevate With Accessories 
Though it may seem like a cliche, accessories really do make an outfit more unique. With all the great coats, boots and layering on offer,  winter is the season you want to look fashion-forward.
But, thanks to harsh winds and cold temperatures, you sometimes you have to prioritise function over style. How can you get the best of both worlds and still look put together? Opt for foundation pieces such as a basic button-down, or quality sweater, add a scarf in your favourite colour or print and add a pair of luxe gloves and boots.
And of course, adorn your ears, hands and neck with jewellery. With jewellery it's all about doing you. Opt for a minimalist approach with a few touches of silver or gold, or take the more is more approach with a statement necklace or earring moment.
How To Improve Your Personal Style At Work 

It doesn't matter if you want them to or not – people will notice how you look – especially in the workplace. Having confidence at work is important and it's much easier to achieve when you're feeling good about your personal style. This is so much easier when your work wardrobe is powerful!
In the workplace, a powerful work wardrobe will encourage people to perceive you as strong, intelligent and with the right attitude. Let's face it, rocking up to work in yesterday's crumpled clothes and worn out shoes won't help you to be taken seriously by your colleagues or seniors.
Ideally, you want to look like you've taken time to consider your outfit and appearance, without being pre-occupied with it. Whether you choose to wear tailored suits, or a chic scarf around your neck, or a stunning timepiece, your effort to look stylish and presentable says a lot about you as a person.
So, how can you give your personal style at work a boost? Let's take a look.
#1 – Check the fit
Tailored outfits are a foolproof option for a good reason: the fit. When you want something that has been created especially for your body, the solution is a comfortable and beautiful suit or dress.
Unlike casual wear, a traditional workplace isn't the place for your oversized jumpers and tees, and nor do you want your clothes to be too tight or revealing. You'll look like you take pride in your appearance if you wear clothes that fit you properly.
#2 – Don't scrimp on shoes
There's no use in having a great outfit if your shoes are worn out or too casual. You need to invest in appropriate footwear, and that's most likely going to veto your sky high heels.
Opt for shoes that comfortable and practical – yet stylish, and that means shopping for ones that are well-made, classic in style, and don't feel uncomfortable all day.
#3 – Show off the time 
We mentioned stylish timepieces earlier for a reason: a watch elevates any work outfit. Having one or two watches to choose from will let you change the way your outfits look in an instant. Bracelet watches are great as are those with a real leather strap.
Depending on your workplace, some styles of watches will be more appropriate than others. If you work in a conservative environment, then flashy and demonstrably expensive watches may be a no-no. Assess the type of place you work before splashing out on that diamond encrusted gold Rolex.
#4 – Add a great bag
Whether you carry a satchel or a handbag, this isn't something you can do without these days. You need to opt for a functional, stylish bag that holds everything that you need it to hold, without it being a suitcase.
If you're looking to elevate your professional personal style, then again, a well-made and classic bag is usually the way to go. This doesn't mean that you must spend your first month's salary on the latest designer tote! Instead, choose a bag that adds flair to your look without being frivolous or overly flashy and you're steps ahead of the competition.
#5 – Accessorise
Classic-style jewellery, scarves, belts – you name it, you can accessorise with it. If you truly want to elevate your work wardrobe, then you need to enhance your outfits with well-chosen accessories.
It's no coincidence that everyone from media personalities, to CEOs and politicians step into the public eye in deftly-accessoried outfits on a daily basis. There's a subconscious impact when a woman has taken the time to add a brooch to her lapel or an earring to her lobe; it quietly speaks of competence and thoughtfulness – the exact qualities we're looking to embody in the professional workplace.
10 Tips To Make Your Personal Style Even More Stylish
These fashion tips won't cost you a thing and they'll provide an instant boost to your personal style, so read on!
#1: Cuff your sleeves, cuff your jeans, cuff your jacket – think softly rolled rather than tightly wound. You can further customise your t-shirts and blouses by knotting them at the waist or hip. 
#2: Aside from the true formal affairs, your sleek sneakers can team with almost any outfit. Make sure you keep them in pristine condition to avoid the just-came-from-the-gym vibe.
#3: Break up your workday suit for casual wear by mixing and matching your fitted blazer with a more relaxed boyfriend pant and printed tee – instant extra wear for your business attire (and perfect for casual Fridays.)
#4: Yes, denim is here to stay. So breathe some life into your old faithful blues and build your outfit around them – they work with a myriad of pieces from statement bright overcoats to silky camisoles.
#5: Give your lazy day garments some exposure and layer your slouchy jumpers over your more polished pieces like white collared shirts, second skin delicate knits and team with leather pants or skirts. You'll stay warm while giving a nod to the new wave of modern grunge.
#6: For chilly mornings, when you finally do break out the chunky turtleneck longer haired ladies can skip a step. Tuck your locks into the neck of your sweater to keep hair sleek and even create a faux bob on the go.
#7: Seasonal style is no longer black and white. Floaty printed skirts can team with your wooly winter wears and keep your wardrobe fresh without requiring any extra purchases.
#8: Belting your outerwear minimises bulk and quite literally pulls the whole outfit together. Try a medium width belt to keep it on trend, and you can even tie the ends together rather than buckle traditionally.
#9: Perhaps it's the shadow of a cape or the angular lines, but there's something so chic about a coat or jacket being worn rested over the shoulders. It's a clean take on cooler weather attire, so don't shrug it off.
#10: Layer. Turtlenecks under dresses, skirts over pants, jackets over jackets, jackets over dresses, t-shirts under shirts.. Layering the most unexpected pieces not only gives your clothes all the added mileage it'll synch you perfectly with the fashion compass.
And of course, a great way of ensuring that your choice of clothing and accessories is right for any season is to enlist the help of a personal stylist! There are many clever style gurus out there that'll help you create the right look for any occasion and any season – no matter what's in fashion.
The Personal Style Advice 10 Leading Influencers Swear By
Whether you're heading to a job interview, stepping out for a first date, or settling down for a girls' night in, your personal style speaks volumes. Everything from your shoes to your top says something about who you are and who you want to be, so why not use this to your advantage?
Developing your own signature style, then learning how to express it can be tricky, that is, unless you're a high profile influencer, with millions of Instagram followers and front row seats at fashion week. That's why we've turned to these ladies for their secrets for style success, so you can dress to impress (and express) every single day.
Read on for the essential personal style advice these leading influencers swear by.
Nicole Warne's Personal Style Influences
The Aussie blogger turned mega influencer has been building her 'Garry Pepper' empire since the age of 19, and she tends to embrace the same signature style season to season.
Influenced by her Australian upbringing, she prefers clean cuts and simple, feminine styles with modern touches, with her seasonal update tending to focus around footwear.
She says her personal style has streamlined over time, telling Harper's Bazaar "I think finding my own identity and self-confidence through life experiences has influenced what I wear now – I don't feel the need to dress outrageously just to be different anymore."
Aimee Song's Trick To Always Looking On-Point
The influencer behind 'Song of Style' and author of 'Capture Your Style' is known for her flawless Instagram feed. The secret to her success? Know your location.
"Whenever I'm travelling, I make sure to look at images of my destination beforehand."
By researching your destination, whether it be a restaurant or a new country, you can plan your outfit to best suit your surroundings, and feel instantly more confident. 

Rumi Neely's Pet Personal Style Peeve
The California girl's blog 'Fashion Toast' has been so successful that she has launched her own luxury apparel line – Are You Am I. Her pet personal style peeve, she told The Fashion Spot, is insincerity in fashion.
Rumi says she'd never be seen in something she wasn't obsessed with, and her guilty pleasure being wearing the same outfit three days in a row. "Being embarrassed is such a waste of time," she told Who What Wear.
Evangelie Smyrniotaki's Key Advice For Dressing
Since 2011, Evangelie Smyrniotaki of 'Style Heroine' has curated high-end fashion, beauty and travel photography in the style of an online magazine. Frequently jetting off to fashion weeks around the world and collaborating with leading designers, her key advice for dressing is to consider your mood.
When choosing an outfit, she reflects on her mood and makes comfort a major element. Although she admits she is an impulsive buyer, and encourages this as a way of going with the flow and embracing fashion adventures, she told The Style Report.
Korin Avraham's Personal Style Approach
The Israeli trendsetter has worked with Veuve Cliquot, Hennessy and Adidas, and combines her optimistic, down-to-earth attitude with heavenly fashion in her blog Ya Salam.
"My wardrobe is populated with eclectic outfits: vintage, classic, simple and elegant, colourful, psychedelic patterns and plenty of accessories." 
Telling L'Express, she advises not taking yourself too seriously, whether its planning outfits too far ahead or in too much detail, or restricting yourself to too streamlined a style.
Prue Richardson's Personal Style Hacks
Developing your personal style on a budget may seem impossible, but 'A Broke Girl's' Prue Richardson proves it can be done, and pretty easily too. She demonstrates you don't have to downgrade your style to stay on budget, and says eBay is a broke girl's best friend.
Her site is home to a number of small businesses selling unique pieces, and sells great quality second-hand designer items for a fraction of their original price.
Gizele Oliveira's High-Low Personal Style 
Who knows more about fashion than a model?! Gizele is a Brazilian model-turned-influencer who's brainchild 'Gizele on the Go!' explores her incredibly chic and surprisingly economical personal style.
She recommends heading online to search for vintage designer goods, such as coats, bags, belts and accessories, and mixing them with affordable high street brands like Topshop, H&M and Urban Outfitters.
Style Advice #8  – Margaret Zhang
Shine By Three's founder is the youthful fairy godmother of fashion who has since ascended from her days as a model and influencer to the lofty role of Editor in Chief of Vogue China.
Her personal style advice is to invest in high-end fashion, fill out your wardrobe with cheap items, and spend nothing in between, instead recycling, repurposing, layering, deconstructing and shopping trans-seasonally.
Eschewing the temptation of buying low quality items, Zhang your most cost effective style plan is a long-term investment in fashion.
Style Advice #9 – Charlotte Groeneveld
The Dutch girl living in New York jets around Europe like a true fashion devotee, and from all of the climates she's lived in, she especially knows how to dress for winter.
On her blog, The Fashion Guitar, she recommends layering in unconventional ways, to represent your own personal style and keep warm: adding sparkly socks, cropped jeans under midi skirts, big puffer jackets and turtlenecks under slip dresses.
Style Advice #10 – Aleali May
The model-blogger has collaborated with Nike, Adidas and Audi, to name a few brands, and mixes street-wear with high-end labels like no other. Instead of following trends like most of the style set, she shops for her personal style, focusing on items that have timeless appeal, and often have a story behind them.
Personal Style Challenge: Creating Your Ultimate Wardrobe Wishlist
If you had the freedom to purchase any 10 items of clothing or accessories to define your personal style, what would you buy?
Would it be a new summer wardrobe? An amazing designer gown and matching accessories? Or would it be a selection of classic staples such as a coat, beautiful boots, and a cashmere knit?  If this sounds like the easiest question in the world to answer, think again!
Challenge yourself to a little style game – the results will be quite eye-opening. The quest is to create your Ultimate Fantasy Wardrobe Wishlist of no more than 10 items at ANY price, to see if it can tell you anything about your personal style and highlight where you need to fill in the blanks.
Just hit up one of your favourite shopping sites and go "shopping." We guarantee that you'll make some interesting and unexpected discoveries.
When you are forced to narrow down a whole world of possibilities into only a small handful, and you're no longer restrained by budget, you need to start to really consider what items you want to include to represent you. This is difficult because it's virtually the opposite of how many of us shop today when we're hunting for bargains and trying to get as much as we can for as little cost as possible.
You'll discover that you not only become extremely selective about what you're shopping for, a whole new level of selection criteria comes into play.  For example, rather than buying based on budget or what's office-appropriate, you're choosing based on what really appeals to you, what you love.
You'll also start to consider not only how you'll look in said garments but how you will feel wearing them- and that's a big one! For example, will you feel confident and beautiful? Carefree or romantic? Girly or The Femme Fatale?
By creating your own ultimate wardrobe wishlist, you'll be able to hone in on a few important realisations about your own personal style.
Hopefully you'll be pleased with what you come up with – or perhaps the process will help you identify what's missing in your personal style and the types of items you need to fill in the blanks. 
Our personal style is more than just what we put on day-to-day, it's also a reflection of who and what we see ourselves as being. There's nothing more frustrating than experiencing a disconnect between who we feel we are and what we go into the world looking like.
With a few clicks and a little bit of experimentation we can all discover the foundation to our personal style, and best of all – start authentically living it.
So, hop on to your retailer of choice and start playing around with the clothing pieces on offer. Create your own wishlist. It's super-fun and you'll be enlightened at the end of it, we promise!
Edgy Personal Style – How To Stay Classy
When it comes to edgy outfits, pulling off a Rockstud choker and a thigh-high-boot is no easy feat, but what if you could create some kind of happy-medium between grunge and your own personal style? 
Well, that's what these five fashion influencers have done – and we couldn't be more obsessed.
We exist in a millennial, whereby personal style is considered the ultimate method for self-expression. When it comes to trends however, the circuit couldn't be more saturated. Today, expressionism is raining heavy and we're sighting more and more instances of good, old crazy fashion than ever before.
Recently, the edgy trend has caught our attention – and for good reason. Designers ranging from Dior to Yves Saint Laurent have delivered us their versions of edgy style which spans everything from the ethereal grunge era of the 80's, to a post-war rendition of femininity. It's fair to say that when it comes to edgy fashion, we've pretty much seen it all.
The outcome of all of this is there's a new happy-medium in town. These days we can all enjoy adding a dose of edgy dressing to our personal style, while staying classy at the same time.
Here's 5 of the biggest fashion influencers who rock an edgy look the right way.
#1 – Megan Fox's classy take on modern day goth

#2 – Platforms and luxe leather by Chiara Ferragni
#3 – Kendall's patent pants and bustier combo
#4 – Bella Hadid's Matrix-inspired moment
#5 – Miranda Kerr does all black leather & lace deluxe
Now that you've seen the inspiration, how can you bring an edgy style into your wardrobe? Here's 6 of the best tips to rocking an edgy look whilst staying classy.
1 – Add a 'tough' material – leather, denim and heavily-textured natural fibres are essentials for instant edgy style.
2 – Choose a unique shoe – platforms and flatforms, peep toe boots or chunky shoes will always lend an edgy vibe. 
3 – Add an extra accessory – hats, chokers, oversized chains and socks/tights can take your look from everyday to edgy.
4 – Look for angles – asymmetrical lines, unusual cuts, exaggerated shoulders or nipped in waistlines, these will help bring an edgy feeling to otherwise ordinary items.
5 – Choose detail – to add a feeling of grunge to your look whilst staying classy, opt for bags, shoes and other accessories with metallic accents. Think Valentino rock-studs, feature metallic zippers, press studs and buttons.
6 – Refresh your beauty look – edgy style isn't all about a smoked out eye and a pale lip. Swap your contour and peach gloss for perfected foundation with a bold, dark lip, or swap a side parted hairstyle for a sleek centre-parted one.
How To Improve Your Personal Style By Flattering Your Shape
We all dream of a wardrobe filled with classic, flattering garments. The pieces that perform at every beck and call – all season long, to enhance your best assets.
Learning how to flatter your shape is one of the key ingredients to improving your personal style. Whether you want to enhance your curves, look taller, show off your legs or your waistline, there's a few tried and tested ways to do it. 
Here, we've included tips and inspiration so that you can highlight your body's best-kept secrets. Apply the pointers below to search out key pieces which not only look fantastic, but feel great too. 
Personal Style Booster #1 – Showcase Your Waistline
Introducing one of the best figure-enhancing items that's well worth investing in for any year or season: The Skirt. A beautifully simple pencil skirt, midi-skirt or A-line skirt is your answer to showcasing your waistline and accentuating your legs. 
Add a silky camisole, classic sweater or crisp white t-shirt tee for a timeless classy combo that never goes out of style. To elongate the legs, opt for an open toe sandal or classic pump, ensuring your skirt falls just around the knee for optimum elevation. 
A form-fitting pencil skirt will give you a super sexy silhouette and va-va-voom sex appeal. If you want to show off your legs, then a shorter A-line skirt that will show off your waist and skim over your hips and thighs is also a winner. 
One of the easiest small-waist tricks in the book is the beloved full-bodied mid-length skirt. For this to have best effect, the skirt should sit right on your waist. The voluminous shape magically makes your mid-section look that much smaller by contrast. Magic!
Personal Style Booster #2 – Highlight Full Body Curves
Wrap dresses and anything belted around the waist works wonders in enhancing our figure. With wrap dresses in particular, they cater to an array of fashion-filled pursuits from the office to weddings, and everything in between.
The V-neckline and wrap detail of this style of dress will minimise the midsection, highlight your shoulders, bust and legs – as well as accentuate and smooth out the waistline.
To keep it classy and cool, look for quality fabrics such as silk, linen and cotton. Minimalistic prints or eccentric vintage-esque patterns a la Gucci or DVF, can work too. For an off-duty approach add a classic white sneaker or ballet flat to downplay the ensemble. A strappy high heeled sandal will elevate the wrap dress for any occasion.
Belts are a curvy girl's best friend. Perfect for emphasising the smallest part of your body (your waist) all the while enhancing your curves. Wide belts teamed with sweaters, tops and dresses give a flattering effect to make you look slimmer and stylish. Narrow belts can add dimension and definition to floaty dresses, shirts and even swimwear.
Personal Style Booster #3 – High Waists To Minimise The Hips
While the early 00's were all about the low-rise, these days a more sensible and flattering style has emerged. High waisted jeans, pants and skirts are where it's at.
The best part for curvy girls? Those dreaded low-waisted styles did nothing to flatter your shape as they draw the eye right to it's largest point. Instead, today's higher-waisted styles draw the eyes to your waist and smooth out the hips.
Even non-curvy girls stand to benefit from adopting a higher-waisted approach. High waisted garments can bring shape to straight torsos while elongating the legs. 
Personal Style Booster #4 – Show Off Your Shape
For most people who want to improve their personal style, hiding beneath baggy layers is the ultimate no-no. Not only will this add bulk to your silhouette and make you appear bigger than you really are, it means you aren't embracing your shape!
When it comes to any clothes, fit is always more important than size. Go for clothes that fit and flatter your shape rather than hide it beneath oversized garments.
Personal Style Booster #5 – Streamline Your Silhouette
It's not just the fit of your clothes that's important, it's they're made from that's just as important if you want to look your best. For curvy shapes, opt for fabrics that hug your figure and give you a more streamlined appearance.
Stretch crepe, scuba, leather and double faced viscose are always great choices, while bulkier fabrics like heavy wool and puffer jackets can make you appear weighed down and shapeless.
 Personal Style Booster #6 – Balance Your Body
Making sure you get your silhouettes right, whether you're curvy or not curvy, is key to your whole look coming together and improving your personal style.
If you're going for slim-fit pants or a tight skirt, opt for a looser top to balance out your appearance. On the other hand, if you're going for a form-fitting or crop top, add volume to the bottom half with wide-leg pants, culottes or a full skirt.
The Easy Outfit Trick For Personal Style That Looks Expensive

If you want your personal style to look polished and luxe, but you don't want to obsess over every outfit (or be constantly buying new clothes) there's a very handy technique you need to know.
If there's one thing that classy and polished women always do, it's put together outfits that give the impression they have spent time and money perfecting their personal style (even if they haven't really). Through the clever use of styling tricks and certain outfit combinations, it's possible to achieve luxe-looking personal style for any season or occasion.
How to achieve personal style that looks expensive?
For expensive-looking personal style, one of the best techniques to use is 'palette dressing' otherwise called the monochrome look. This is when your whole outfit is all the same colour (or at least from the same colour family.) This outfit trick is a great one because it can be achieved for any season, with any budget, and for any occasion.
By its very nature, dressing in one colour way will always look very pulled together and coordinated, and it's also very striking. Whilst all black outfits and all white outfits are the most luxe colours to wear head-to-toe, and are already classics for most of us, there's nothing stopping you from following this technique for any colour that suits you.
After black and white, neutrals such as beige, tan, grey and navy should be on your radar for monochrome dressing. Then, if you're confident, move into bright colours.
If you're worried you will end up attracting attention for all the wrong reasons if you're wearing a bright colour head to toe, you can avoid it by muting down the tones and mixing up the fabrics. 
Below we've curated some inspiration on how to use the monochrome technique to transform your personal style to look effortlessly expensive.
#1 – All White 
Nothing looks more luxe in cool weather than winter whites. Team white jeans with white knitwear and a classic white maxi coat. Perhaps swap the strappy shoes for a neutral boot if it's a bit chilly. Don't wear a white boot. EVER.
Combine tailored white pants with a button down and white coat and you are all business for a day at the office.
The people behind Le Diner en Blanc can't be wrong. This global all-white-everything dinner showcases what's so chic about the colourless hue. Wearing all white instantly translates to thoughts of European summers and tanned skin so indulge in it whenever you have the chance.
This white statement coat teamed with stylish white heels embodies street style mixed with sophistication.
 #2- All Black
This is a very European look, but we can get away with it in Australia when it's cold enough and we have the right attitude! Team a statement faux fur jacket with black pants or  leather leggings, boots and a classic black handbag.
All black perfection here, by way of a matte classic black pump, cropped tailored pants, a black blouse and totally chic long-line tuxedo blazer.
Whoever said you couldn't wear an all black outfit in Summer was wrong. Team a classic linen dress with leather sandals, a minimal carry-all and black shades.
This formal all-back outfit on Olivia Palermo is so luxe. Even if you lack access OP's designer wardrobe, you can still layer, layer, layer your blacks for a formal occasion. Stockings, bag, sunglasses and statement belt add to the depth of this supremely classy outfit.
 #3- All Grey

This groutfit on Kendall Jenner is classy, sophisticated, and you'll have to admit – it looks tres expensive. Beautiful fabrics intermingle with luxe suede shoes of the same palette and the result is perfection.
 #4- All Beige

The idea of an all-beige outfit would have most people reeling, but as Aimee Song shows us, it's a look to master. Outfits composed of oatmeal, light beige, flashes of gold and luxe neutral suede mixed together will have everyone singing praises.
#5 – All Navy

There's so many ways to wear an all-navy look, but this one sums up the versatility perfectly. This supremely classic shade is perfect for everything from denim to knitwear, and it can also look very stylish in the workplace via tweeds and wools. Emmanuelle Alt shows us how to step out in a stylish French-mod look utilising different textures of the regal hue.
See, it IS possible to wear all pink and still look sophisticated. Whilst it's girly in hue, this all pink outfit speaks of confidence and classiness.
 #6- All Red

When looking expensive isn't enough, there's looking EXTRA. Team the chicest red suit with a red handbag and red bandeau underneath and then throw a red faux fur over the shoulders. Extra expensive personal style achieved. 
#7 – All Green 

An all-green outfit has the potential to go very wrong, so it's suggested to team hues of olive, moss, and other muted versions rather than bright lime green and emerald. Heavy gold jewellery such as a vintage watch, a fob necklace or favourite gold ring are the punctuation points to this type of ensemble.
 #8-All Brown

An all brown outfit is your chance to combine luxurious, beautiful fabrics for the cool months. Think cashmere sweaters, silk blouses teamed with nubby tweed coats, corduroy and velvet. Wearing an all-brown outfit is ALL about the play of texture, so be sure to mingle several at once for an ultra expensive looking outfit. 
How To Construct A Covetable Closet So You Always Have Something To Wear
Are you someone who, each and every season, like clockwork, makes a valiant effort to update your wardrobe by displacing the old and welcoming the new?
If so, we're here to tell you that you no longer have to do this.  Instead, why not invest in a few key pieces that speak closely to your personal style, and rotate them throughout the years and seasons?
We all want to eliminate the feeling of having "nothing to wear". The first action is to step of the seasonal trends train and only add these items sparingly. The bulk of your closet can therefore consist of carefully considered and well made pieces that not only look good, they make you feel like the best version of yourself, every single day.
Here's all the tips you need to construct the perfect closet for your personal style.
#1 – Base around your neutral hues
We're no stranger to the black, white and grey rule. In fact, admiring Sarah Crampton of Harper and Harley's coveted neutral closet is a regular downtime activity for us.
Despite being easy and effortless, neutral hues (in whatever colour way this means for you) are a great foundation for constructing every one of your day-to-day outfits.
If you think this means you have to add more black to your closet, you don't have to.Opting for colours such as French navy, beige, burgundy and khaki – will hit the spot just fine.
And similarly, neutrals needn't necessarily mean those classic neutrals we mentioned earlier. Because we're speaking here about personal style, the interpretation of "neutrals" is indeed personal. So, if you're a bright colour gal, then neutrals to you may mean reds/pinks, blue/greens or something else entirely.
#2 – Find your wardrobe chameleon
Being able to wear a piece of clothing in more ways than one is definitely worth getting excited about, and it will act as the methodology behind building your dream wardrobe.
Why is this? Because, investing in a chameleon wardrobe staples will allow you to experiment with different styles suitable for different seasons, all year round.
Many personal stylists recommend beginning with a wrap dress or cotton dress shirts as these pieces can be layered, tied, dressed up or down in a myriad of ways.
#3 – Find your denim(s) 
There is no such thing as having "too much denim" in your wardrobe. Denim is now accepted in most settings, meaning you can really get your money's worth when you invest in a few key pieces that are closely aligned to your ideal personal style.
Take advantage of the situation by investing in the likes of jeans, shorts, denim jackets and denim shirts – and ensuring they're worn every which way possible. The possibilities are endless when it comes to denim!

#4 – Build out an accessories collection
Accessories are an easy solution for dressing up everything and transforming lackluster outfits into something street style worthy. They also give you the opportunity to further live your personal style ideal each time you get dressed.
For instance, when a simple t-shirt and jeans combo just won't do, add a silk neck scarf or a bold pair of gold earrings for an instant lift for your ensemble. 
Having a good selection of the right accessories is key, so you need to invest in something for every aspect of the body. There's no point having belts and nothing else!
For your head and face: have a few pairs of quality earrings, a felt hat and a neck-scarf. For your wrist and hands: have a statement watch, a couple of bracelets or bangles, a favourite clutch. For your waist: have a selection of belts to dress up everything from jeans to dresses, or longer scarves you can use to tie around the waist.
#5 – Develop a workable shoe collection
If you were to ask women which pieces of their wardrobe they value the most, many would say their coveted shoe collection. We women love nothing more than shoe shopping – but it's a guilty pleasure. But it often means we don't have the type of shoes we REALLY need for day to day living. 
The lesson to be learnt here, especially in a post-COVID world, is to ensure that flat shoes have as much of a place in your shoe-drobe as the high, fancy ones – because let's face it, no one is running around in statement stilettos these days are they?
Instead, pay more attention to investing in practical shoes you will actually wear, such as boots, sandals, loafers and of course, lifestyle sneakers. These choices are both comfortable and stylish and will cater for most of today's settings and occasions.

#6 – Always make room for some colour
Dressing in colour is what makes fashion so much fun, and it's an another way you can express your personal style. When it comes to constructing a covetable closet, incorporating pops of your best colours into it is essential – how can you truly express your personal style if you are limited to a set of neutral basics? 
You can bring colour into your wardrobe via bold statements such as a structured blazer or bomber jacket – or through t-shirts or a simple slip dress. Ideally, to prevent overload and never having anything to wear, keep your coloured items as accents in your wardrobe – these can be layered over your foundational pieces for great effect.
7 Things Your Wardrobe Will Thank You For Throwing Out

Are you hoarding relics from eras past in the fashion department? Do you look at your wardrobe and cringe, not only from the memories it triggers but the horrible realisation that you actually wore some of these items? Or maybe you're holding onto the hope that the items will work their way around the fashion calendar and become trendy again? 
Whatever the reason, we've all been there. Our wardrobes are full of our favourite (and not-so-favourite) things: from that coveted vintage Chanel clutch to the overpriced bridesmaids dress we wore to our besties wedding in 2008 (and swore we'd wear again but never did), these over-stuffed troves of the home are full of fashion memories.
And while there's nothing wrong with holding on to things you love, there are a few items you should eradicate from your wardrobe, and pronto. If any of the following long-lost fashion gems are hiding in the deep, dark mystical back of your wardrobe, you need to get rid of them for good!
#1 – Going Out Tops
If you're still holding on to your best "Going Out Tops" which you wore with your low-rise flares and extra-pointy toe heels then it's probably time you staged your own fashion intervention  (no-one can save you from this but yourself).
While the mid-2000s don't feel like so long ago really, we've come a LONG way fashion-wise since then. There was a time when we all obsessed over needing more 'Going Out Tops' – the sparklier, the strappier, the more polyester the better.
We wore them everywhere, from shopping trips to long nights dancing with friends. Those days are over though, and so are 'Going Out Tops' – it's not too late to save yourself, so throw them out now.
#2 – Low Rise Jeans

The early 00's were an interesting time in fashion and it's when many of came of age in a fashion sense. We were fresh out of the grunge of the 90's and entering a whole new millennium. With the new era came a whole new world of outfits.
Low-rise jeans became the hottest item in everyone's wardrobe – the lower-slung, the better! While this look is making a small, nostalgic comeback in 2022, it's a look that's completely unflattering for most people.
Kick those low-slung Levi's to the curb! Replace them with more current mid-rise or high-rise jeans that, besides hiding your muffin-top, also have the added benefit of not showcasing your underwear to the world when you bend down. Win-win.
#3 – Decorative Headwear

There was a time, circa 2012, when Gossip Girl was our fashion compass. While Serena van der Woodsen and prim-and-proper Blair Waldorf are still TV fashion icons, it's time for us to ditch those very Gossip Girl headbands and hair accessories.
Why? Not even Blair would be caught wearing one in 2022. While we've seen various oversized headwear trends come and go over the past decade or so, they have been undoubtedly a lot more chic and stylish than those seen on these dated teenage characters. 
#4 – Bandage Dresses

If Kim Kardashian thinks bandage dresses are tacky, there's certainly no place for them in our wardrobes. And let's face it, unless you're a VS model, bandage dresses are anything but flattering (unless worn with 7 pairs of spanx). Get rid of your super tight and super short dresses and replace with a stylish  LBD that's actually sexy and flattering.
#5 – Jeggings

No, just no. Jeggings had a brief second in time where it kind-of-sort-of looked like they might have their moment. But, just like Gretchen Weiner's one-woman attempt to make 'fetch' happen, there's no way you're going to single-handedly bring back jeggings from the dead. Toss them.
#6 – Cargo Pants

Is your name Gwen Stefani? If you answered no to this question, then there's absolutely no reason for you to have cargo pants in your wardrobe. Once thought of as the ultimate in casual cool, cargo pants are dead. And unless your name really is Gwen, we're not entirely sure anyone else rocked them with quite the same style as her anyway.
#7 – Peep-toe Cork Wedges

We're not really sure when specifically these were in fashion, but somehow they're seems to be a pair hidden in the back of almost everyone's wardrobe.
Regardless of why or when, cork wedges have had their moment and it doesn't look like they're coming back any time soon. If you're still partial to the idea of a wedge, swap your cork ones for a chic espadrille which will never go out of style.
 Accessories: Putting The 'Personal' Into Personal Style 
Without some personalised styling, even the most well considered outfit can look a little underwhelming. The difference between an outfit that looks perfectly YOU and one that looks generic usually comes down to one little inventive element.
Whether it's that quirky clutch to go with your little black dress or the statement earrings you added to your simple jeans and tee, accessories have a way of lifting your outfits from the mundane to the magnificent.
Here's the best accessories to add personal flair to any outfit
#1 – Small bags and clutches
For a look that's every bit as fun and fabulous as you are, small bags and kitsch clutches are great accessories to add to your outfit. The best part about this outfit trick is that it gives a hint about your personality without screaming it.
For example, for those among us who LOVE the 60's aesthetic but aren't quite brave enough to attempt a full kitsch look, there are still ways to make this a part of your personal style through the clever use of accessories. Pair a kitschy clutch with your favourite LBD for your next night out for a look that's fresh and flirty.
#2 – Sunglasses
Sunglasses have forever been a way for people to express their personal style, and it's easy to see why. From Anna Wintour's oversized shades to Andy Warhol's thick rimmed spectacles, glasses are a shortcut way to punctuate your personal style.
If your style is all about the latest and greatest, use the latest trending frames to tell the world just that. If you're a more classic dresser, reach for a classic Rayban wayfarer, a black cat eye or a minimalistic mirrored pair. 
#3 – Big bags and shoes 
It's a well known fact that bags and shoes can make even the most boring of outfits look bombshell beautiful. They also have the ability to put a personal spin on your wardrobe and show to the world what your style is all about without screaming it from the rooftops. 
For example, what shoes would you put with a straight skirt? Whereas sleek ankle-boots may say 'I'm ready for business', pumps may just say 'frump'. With shoes and bags you have the ability to choose which way to take your look in an instant. 
With literally millions of options at your fingertips, you can have a lot of fun expressing your personal style through the right bags and shoes for you.
#4 – Statement Jewellery
It wasn't too long ago that jewellery was all antique hand-me-downs and things that never left the jewellery box. Enter the revival of all things accessories, and statement jewellery is yet another way to define your personal style with each outfit.
Whether you're drawn to some seriously-glam neckwear for your next night to go with your high-octane outfit, or you're loving a colourful beaded necklace for that weekend brunch date, statement jewellery is a great way to further express your style without having to speak.  

#5 – Scarves
While silk scarves may not offer the same functionality as its chunkier (and warmer) counterparts, they will score you some serious style points and they are a mainstay for anyone with an elegantly-leaning personal style. 
But truth be told, all types of scarves serve up serious personal style mileage – whether fine silk, chunky knits or something in between. Choose a scarf in any print, colour or fabric of your choosing and use it to add individual style to everything from jeans and sweater combos to black tie dresses.
#6 – Earrings
Earrings have always been a go-to way to personalise your appearance. Whether you sport single studs in each ear or you have layered up the ear candy with multiple piercings, there's no better way to showcase your personal style than with what you adorn on your ears.
Experiment with different styles of earrings and take note of what makes you feel the most YOU. Is it a pair of classic diamond studs? A luxe organic pearl drop, or some crystal embellished statement chandeliers?
Whatever you fancy, incorporate your preferred type of earrings into your wardrobe daily. You'll soon start to feel much more pulled-together and stylish every time you walk out the door. Add a pair of earrings to your next outfit and watch your personal style jump off the radar.
MORE – How To Wear Workout Clothes In Everyday Life
MORE – 6 Best Swim Wear Styles For Your Body Type