What to wear to the beach sounds easy enough! A bikini and a towel plus a dose of body confidence, and you're set to go… right?!
While we're all for keeping things simple, when you're looking for the perfect outfit to wear to the beach, there's a few things to consider that'll help you choose what you should wear.
Aside from the obvious considerations such as the location + country (are you bathing at Bondi or the Bahamas?), there's also the question of why you're even going to the beach in the first place! ie, are you going to the beach to sunbake and swim? Or is it a picnic/lunch/social gathering you're off to?
So while there's plenty of advice out there about getting a 'beach body' for summer, what we're most interested in are beach outfits, and how to remain stylish for all occasions. 
Our advice is to take a relaxed approached to your style on the sand, utilising clever cover-ups and strategic accessories to keep your looks and locks under control (whilst staying sun-safe!)
Keep reading for beach outfit ideas and shopping suggestions for what to wear to the beach for any situation!
Situation #1 –
You're there to RELAX

Shopping Suggestion:
Jetset Double Strap One-Piece by Jets
So it's finally the weekend, and you've taken some time out of your schedule to hit the sand and the surf. All you want to do is lie on a towel, zone out for a while, or maybe get stuck into a book. 
For this type of beach excursion, comfort and confidence is key. There's no need to sport the absolute latest and greatest in beachwear (unless of course you want to) so save your showiest pieces for future use.
You might also want to go for something which creates only minimal tan lines, so avoid anything too intricate or with cut-out details.
Shopping Suggestion:
We'd recommend a simple one piece or a comfortable bikini teamed with a wide-brimmed hat and some practical shades. You can save your flashier and more look-at-me beach outfits for other occasions.
Situation #2 –
You're at a private beach of a luxe resort:
Shopping Suggestion:
Sequined bikini by OSÉREE
If you find yourself wondering what to wear to the beach when that beach just happens to be situated in a 5-star resort, do you really even have a problem?! 🙂
We empathise with you regardless, as we'd also want to have an absolutely perfect suite of outfits to look the part in such plush surroundings.
Shopping Suggestion:
Paradise halterneck swimsuit by PATBO
At a white sandy beach at a 5-star resort, it's perfectly appropriate (if not expected of you) to wear your more "extra" looking beach outfits. This could be a sexy one-piece teamed with an oversized hat for and stylish sunglasses for privacy, or an expensive-looking bikini teamed with a sheer cover-up and some eye-catching jewellery.

Shopping Suggestion:
Embroidered Vacay Beach Tote by Poolside
At a private beach on a resort, you'll likely have the world at your beck and call, so don't be afraid to look the part – even if your outfit isn't totally practical.  And don't forget your kitchy beach tote.
Situation #3 –
Your're off to the beach for something social
Shopping Suggestion:
If you're off to a beach location for something other than surf and sand, then you'll need an outfit that is lightweight, comfortable and shows a little skin. 
Think, a printed strappy playsuit, some flirty shorts or a pair of culottes. Team these summery basics with a straw or canvas bag, some comfortable slides and your favourite sunglasses.
Shopping Suggestion:
For more beach outfit inspiration, scroll below to see how 5 celebrities dress for the beach!
Beach Outfit Inspiration #1 – Emily Ratajkowski
Emily's chic beach outfit is something EVERYONE should have in their arsenal. Pairing a classic black triangle bikini (we are obsessed) with a traditional boater hat has never looked better. Pairing gold jewellery with timeless swimwear elevates the look to the next level.
Beach Outfit Inspiration #2 – Megan Young
White pants are a staple of any summer wardrobe, and they make an effortless upscale beach outfit. Perfect to throw on over your swimmers, high-waisted pants will let you show off your bikini in public without feeling self-conscious. Easy to mix and match, these pants will take you straight from the water to your favourite beach bar at the sun sets on the horizon.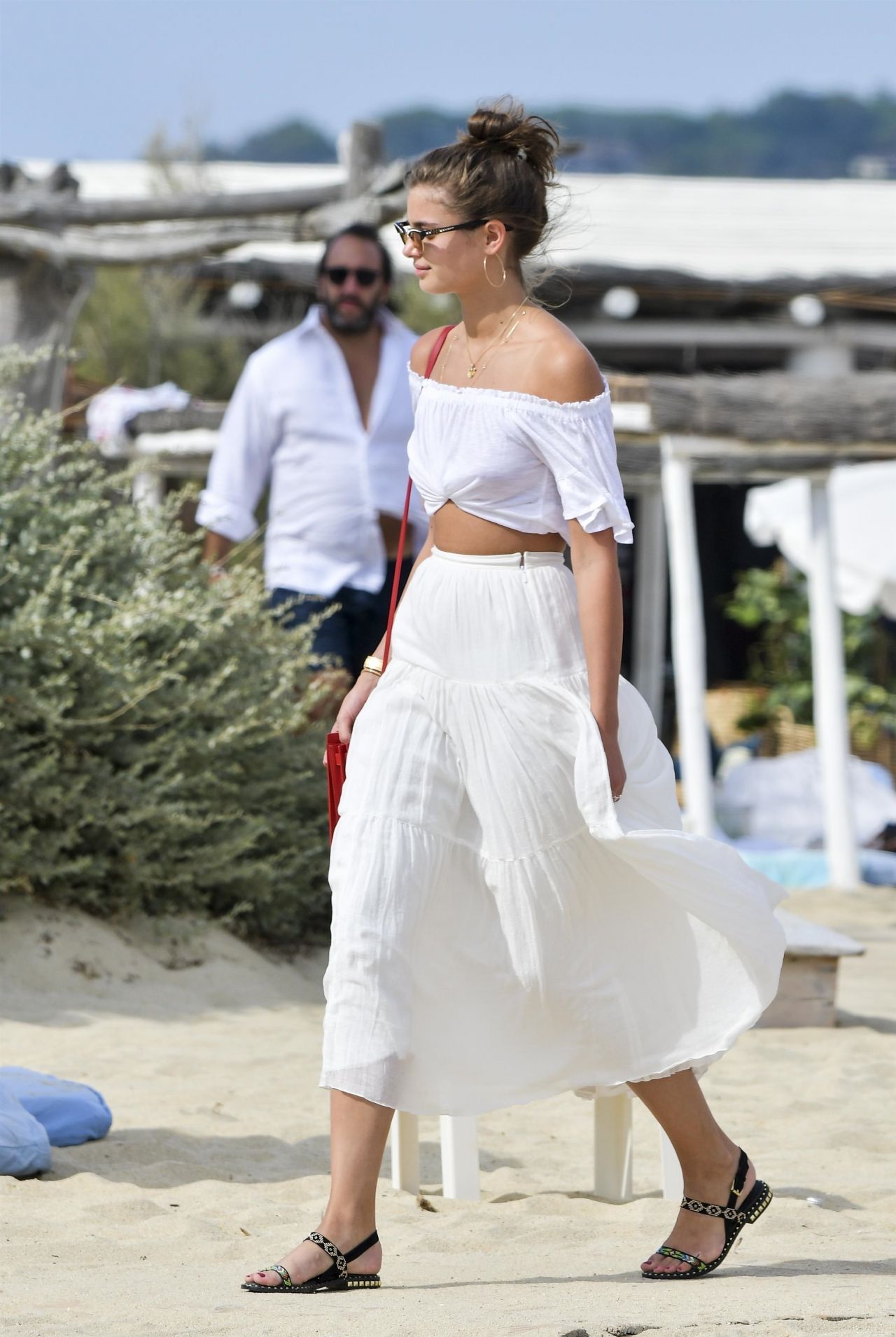 Beach Outfit Inspiration #3 – Taylor Hill
Did someone say St Tropez?! Taylor Hill's breezy beach outfit makes this look like the opening scene of a summer romance movie and we LOVE it. If you're curious to see how it ends, take a cue from Taylor and wear white linen onto the sand this year. Picture perfect.
Beach Outfit Inspiration #4 – Charlotte McKinney
Known for her role in Baywatch, Charlotte McKinney takes a departure from the signature red one piece we all know and love. Sticking to a monochrome palette, she shows us how to mix up our bikini sets and effortlessly throw a linen shirt on to cover our shoulders (or not). Add some dark sunglasses so you can people watch from behind and no one will be the wiser.
Beach Outfit Inspiration #5 – Kendall Jenner
Wearing Australian label Zimmermann, Kendall Jenner's beach outfit flawless. Fitting in perfectly with the pristine blue waters of Antibes in the background, her floral jumpsuit is the perfect inspiration for your Sunday brunch on the water, while fresh white sneakers will keep you comfortable all day.